Facts, backgrounds and philosophy
The man with the green shirt
Roland Müller, built 1961, is the man with the eye-catching green shirt and founder of mb-youngclassics. Since childhood crazy for Mercedes, his automobile career began at a time, when no car was safe from beeing equipped with all kind of spoilers, lowering springs, extra chrome and various, sometimes dubious accessories. Each car magazin featuring a new conversion was purchased and read enthusiastically.
Even then in the wild 80ies the taste question arose, which is still being raised up today: Is this worthy of a Mercedes? In addition to renowned companies many "backyard tuners" tried to cut off a piece of the pie. Even hardcore tuning fans today smile at the sometimes fearing conversions of dubious quality. But there also were companies, that worked with quality and style and some of them still do this till today. Original conversions from AMG, Brabus, SGS and Lorinser again inspire a huge number of car collectors and are sought as collectibles – with increasing price trends.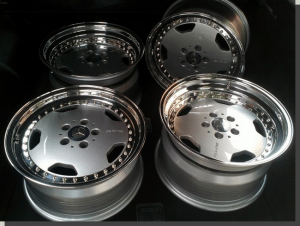 The passion for these vehicles resulted in the establishment of mb-youngclassics. After more than 30 years working on own vehicles, of which none was held original, 2010 a private passion was turned into a profession. In many years gathered "artifacts" from the 80s formed the basis for successful business creation. Over time the number of original converted vehicles has fallen sharply and the lovers of this period cars are now starting to recreate the dreams of their youth. mb-youngclassics helps with rims, accessories and last but not least with expertise.
Despite the charm of the extraordinary there was and is a maxim – all the parts offered are contemporary originals or perfect copies. Therefore in the Classic Shop there are no cheap LED taillights or chrome flodded headlights from Taiwan. Each part offered can be installed even at 30-year old vehicles without the fear of losing the historic plates.
Some memories of good old times – cars i drove
Do you have any questions?  Then call us!
+49 152/06607626 from 9.00 am – 7.00 pm CET
or write a mail to mail@mb-youngclassics.de