How to convert a righteous family wagon into an extravagant piece
Enlarge gallery photos with a click!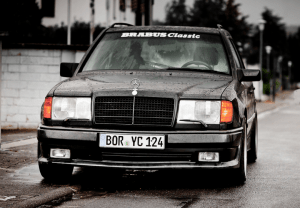 I was blessed with driving my 500SEL W126, but in 2007 the situation arouse where I needed a 2nd car while the S-Class was being restored. As an ideal supplement, I decided on the W124 series wagon and soon found a 300TE styled by BRABUS in one of the darkest corners of East Germany, which did not cost me a bomb. At first glance, the journey with this for many years neglected maschine seemed like an adventure – but it eventually proved to be rather straightforward. 5 years later and with a total mileage of 700,000 kilometers, the original engine got tired and pretty little iron oxides started to grow on most parts of its body. This made a restoration not worthwhile and a new wagon had to be found.
As the base of my search, I made a wish list of specifications – the minimum equipment were heated seats, air conditioning and a sunroof. Everything else could be easily retrofitted. A six-cylinder was a must and it should have a manual gearbox as its predecessor. The automatic 300TE just revs too high and therefore, a 5-speed manual made a lot more sense. After weeks of burying myself in car portals a neat candidate was found – but to my chagrin, it was an automatic. Nevertheless, after a test drive I was convinced, that this car has earned its chance.
It was an E320T, manufactured in 1994 with a rev-lowering 5-Speed automatic transmission, fist sized holes in the fenders but rust free rear wheel arches. The overall condition was very good, all the requested options and more were there and fenders are a common wear part on a S124 anyway. The engine wiring harness was dead as usual but had a pleasant influence on the purchase price – so I took the car home with me. A new engine wiring harness, two good second-hand fenders, some maintenance work and the car already made a good impression. A set of well-preserved Sador rims and good tires from my warehouse made it complete. I attended the 2014 classic car show and other events, always with the roof rack and rims attached to it. But – although the wagon was in a nice and goodlooking condtion, for a vehicle, which as an advertising medium should help selling tuning parts and chic aluminum rims, It was just too stuffy. So it was time to do something.
There was an idea of a conversion, lingering in my mind for a very long time. It always annoyed me, that Mercedes never offered the 500 V8 in a wagon body. It took a long time to find the necessary parts – fenders of the 500E are not cheap, even if they are used. And the fact that I needed four of them didn't make things easier. A few weeks before the Schoene Sterne GTG in 2015, I was lucky to find two front wings in addition to the existing 500E good fenders that I earlier found. They had rust on the usual places – beneath the corners and at the bottom, but at a very good price. I just needed the middle parts to be cut out and welded onto my well-preserved rear wing to create wider arches. So, everything was available and the conversion could begin. The deadline was the Saturday before the Schone Sterne GTG, where I wanted to showcase the car for the first time! I had mentally played through the conversion for years, and so, I had an almost perfect schedule of it in my head, which I could use to start the conversion. But when the time came when I held the cutter in my hand and was about to make the first cut in my rust-free rear heel arches, I decided to spend a minute of silence and ponder, if I really want to do that. Ok – that minute was over after 15 seconds and by then the grinder had already devoured the arch. If only I knew what I was in for…
The new wheel arch was cut out of the rusted, donor wings and by using them, the cut on the car was measured. The new arch then was fitted perfectly and welded to finish.

.
The wheel arches on this car are wider than the original ones, to cover the 285×18 Brabus wheels with a perfect fit. My MOT auditor, a former employee of the BRABUS company, thankfully came over after work to help me with this conversion, so there were no problems with later inspection and scrutiny by the MOT. The BRABUS rear apron is a fiberglass overcoat and could easily be adapted to the new width by leaving the original bumper at its place..

After the installation of the front fender came the hardest part – the widening of the BRABUS front apron. It consists of plastic and is actually intended for a regular width W124. Heat treatment and stretching with a spreading tool helped the apron dilate, so that the chrome parts of a 500E apron fitted perfectly.
The car went to the painter after some adjustment on the aprons and side sills. It then returned just three very short days before the Schoene Sterne GTG and I could begin the assembly. Although this process may appear simple, there are a long list of things that took approximately 4 weeks of intensive work. There were many small details that needed to be taken into consideration, especially since the conversion was adapting a standard body kit with the new width of arches.
Add on all the nice rare parts – and you have a really nice grown man's puzzle!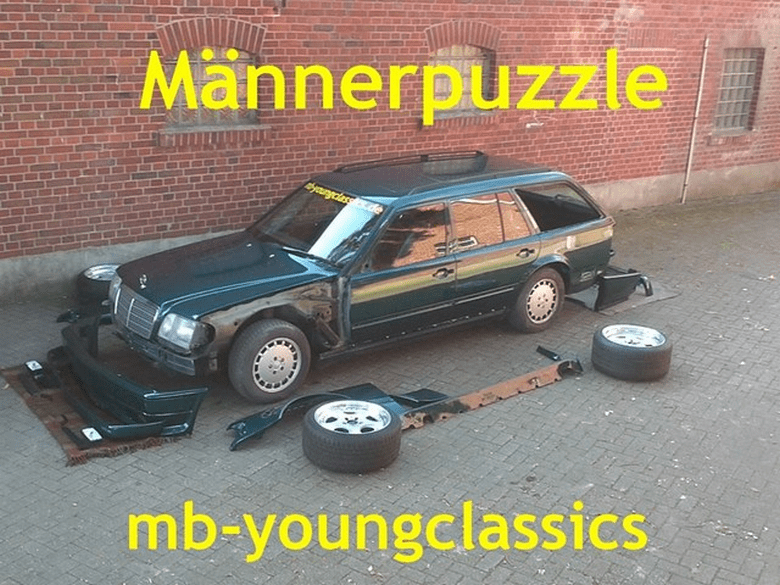 I honestly think the effort was worth it! Incidentally – the name "Green Testosterone" comes from my forums colleague Joern Noldt – thank you for that! It fits like a glove!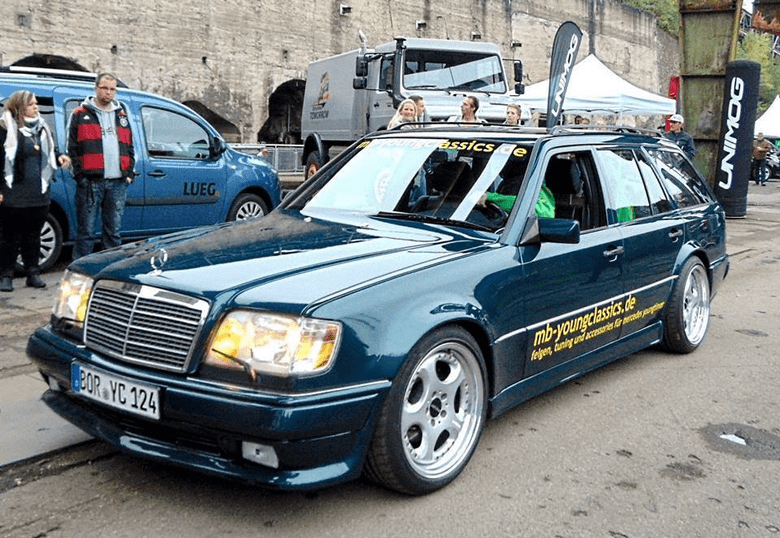 Are you also planning such a conversion? Are you looking for parts or a competent conversion partner?
Do you have any questions? Or do you already know what you want? Then call us!
+49 152/06607626 von 9.00 am – 7.00 pm CET
or write a mail to mail@mb-youngclassics.de